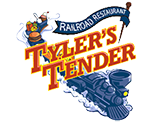 Make your visit a steal of a deal!
See our latest coupons and promotions to save on your next trip!
Take a second to sign up for our birthday club today!
You and your child will receive a special gift at the beginning of their birth month.
- Check available dates & times
- Book an event
- Customize your experience
Welcome to America's Favorite Family Restaurant!
---
Welcome to Tyler's Tender. Our full-service family restaurant is the perfect blend of great food and a kid-friendly environment.
While you are having a conversation with your spouse or friend, your children can play with our interactive O-scale model train, or enjoy being the engineer on our ride-on train. We also have a 1600 square foot arcade for you or your children to enjoy. Be sure to bring your camera to capture the smile on your little ones' faces when their food is delivered to them at the counter on a model flatbed train car.
We also offer birthday parties in our private party room. Call for further details and to reserve your spot today!
---